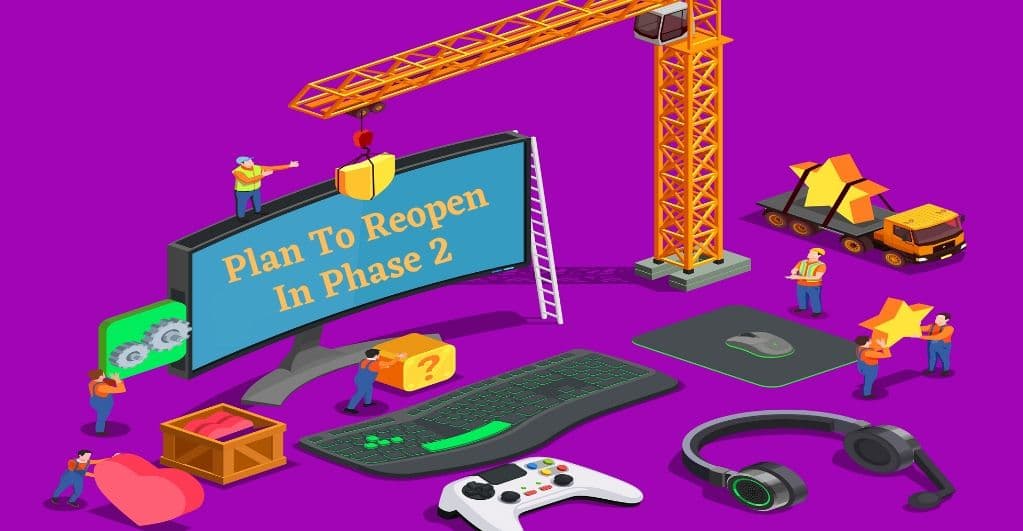 After nearly an 80-day shutdown, gambling venues across the state of Nevada could finally reopen on June 4, 2020. The state's governor Steve Sisolak will hold a press meet at the State Legislature in Carson City on Tuesday, May 26, at 5.30 PM to talk about the second phase of Nevada's reopening plans.
Also, on Tuesday at 9 AM, the NGCB (Nevada Gaming Control Board) is planning to hold an informational workshop with state and local health and safety officials to glean updates pertaining to COVID-19 response measures at resort hotels. Based on the information obtained, it will then decide if the resorts are eligible for reopening.
Casinos should submit a safety plan for review by the NGCB 7 days prior to planning to reopen. The governor's office reported it has been closely monitoring the pandemic-related data to ensure if the state is ready for Phase II reopening. If the reopening date holds good, thousands of casino employees could return to work.
The workshop has planned many discussions pertaining to COVID-9 control. The one agenda with regard to resort hotels includes:
Discuss updates of the University Medical Center's (UMC, Las Vegas) partnerships with gaming resorts to administer COVID-19 testing for gaming staff before they return to work.
Gaming Industry: First Phase
Phase I reopening began on Saturday, May 9. During this window, casinos were directed to follow certain industry-specific guidelines, including:
Restaurants were allowed to reopen, but the buffet and the gaming floors were to remain shut
A separate entrance for the restaurant should be provided for patrons aside from one-off the gaming floor. If there is no separate entrance, customers should enter the dining area from inside the establishment without traversing the casino floor
If the restaurant has no separate restroom, then patrons should be guided on how to enter other restrooms without stepping onto the casino floor
Health and safety directives from health districts or country governments should be strictly followed
Customer congregation outside the restaurant before entry should be avoided
Casino staff and guests were required to wear masks and have their temperature screened at the entrance
Gaming Industry: Second Phase
The first-phase requirements hold good here as well and vice versa. Besides the same, Phase II requirements include:
Players cannot flock to table games just yet
All casino surfaces to be disinfected
Employees to be trained on how to prevent the transmission of contagious diseases
Casinos should also clean high-contact surfaces such as gaming machines and elevator button regularly
6-feet social distancing should be implemented and practiced in restaurants, pool area, and lounges (e.g., the NGCB suggested removing chairs from every second gaming machine to achieve this)
Hand sanitizer/wipes should be readily available on the gaming floor
Occupancy limit should be 50%
Limited number of players who can play one time at table games (6/craps, 3/blackjack, 4/roulette, and 4/poker)
Clear acrylic screens to be placed around the gaming tables to separate dealers and gamers
What Have Casinos Planned?
It is not just the federal and state governments that are working round the clock to bring back Nevada to life but also one of the state's major revenue generators, casino operators that are beginning to pressure the government and the NGCB to allow them to reopen their properties. Casinos are doing everything from bringing employees into rolling out plans to authorities to showing media the safety precautions to return to action.
Some of their efforts include:
MGM Resorts is now showing off its opening plan from its Bellagio casino
Sahara is banning smoking at tables and will have a virtual queue for gamers to reserve a spot
Caesars and Flamingo have plans to allow poker
Caesars, MGM, and Cosmopolitan are planning to offer free parking when they reopen
Safety is Priority
As much as revenue is cardinal for the functioning of the state and its residents, so are the health and safety parameters. The government and NGCB are aware of their statutory duty to safeguard public health and welfare and are taking every precaution they can to ensure the safety of the people while allowing Nevada's gaming industry to prosper through stringent regulations.