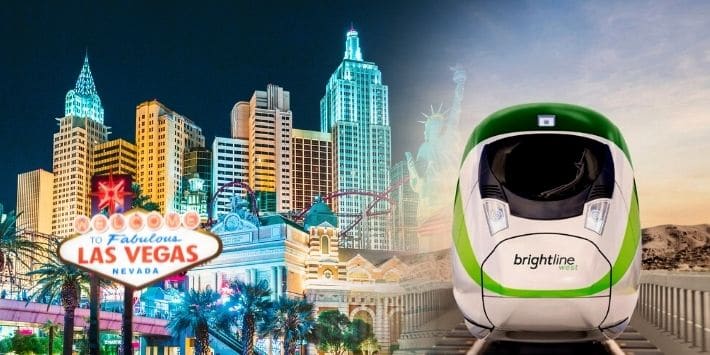 Lone Star Funds reserved a property from Clark County to build casino-related venues back in 2012. As per the Las Vegas Review-Journal, the property is located near the McCarran International Airport. The majority of the real estate, including the area proposed for the train station, falls under the jurisdiction of Clark County.
John Grayken, the owner of Lone Star (a private firm), has dropped the plan to develop a casino on the land. Back in 2012, the firm asked Clark County to create a convention center, hotel towers, and a casino on the ground. However, the latest report states that the firm has sold the site to Brightline Holdings.
The land is situated west of the Last Vegas Strip, between Windmill Lane and Warm Springs Road. Since South Premium Mall is nearby the property, Brightline can generate quick profits through the venue. The company purchased over 110 acres of land for 140 million dollars in early July. Brightline has not disclosed any set timeline for the project, but some information about the station is available to the public.
The distance between Allegiant Stadium (Las Vegas Raiders' home) and the station will be four miles. The stadium is situated west of Mandalay Bay (a well-known resort.) Tourists can easily access the station since it will be 10 miles away from the Las Vegas casino district.
Michael Reininger (Brightline Holdings' CEO) stated that buying the land shows the company's commitment to execute the project. Once completed, the station will be the fastest in the country, with a top speed of 200 miles per hour. The line will connect the Last Vegas Strip's southern end to the main terminal situated 90 miles away from Apple Valley, Los Angeles. Brightline will also add extensions to link the terminal and Los Angeles.
The original plan was to commence building this summer; however, it has been delayed till 2022. Given the current state of the market, the company cannot fund the 8 billion dollars project.
As per the given information, the high-speed track will cover Interstate 15, which is the primary route used by Californian tourists. LA is the closest metro city near Las Vegas, but it's still 4 hours away from the state. 
Being a popular tourist destination, Las Vegas faces terrible traffic congestions around the state. It consumes unnecessary time and resources, hindering tourists' experience. After the station is finished, it will significantly reduce the congestion, improving tourism across the state.
The high-speed terminal will play a crucial role in solving traffic jams on Interstate 15. According to Brightline, over 11 million passengers will use the train every year. Michael Naft (Clark County's Commissioner) commended Brighton's move, stating it shows the company's willingness to complete the project.