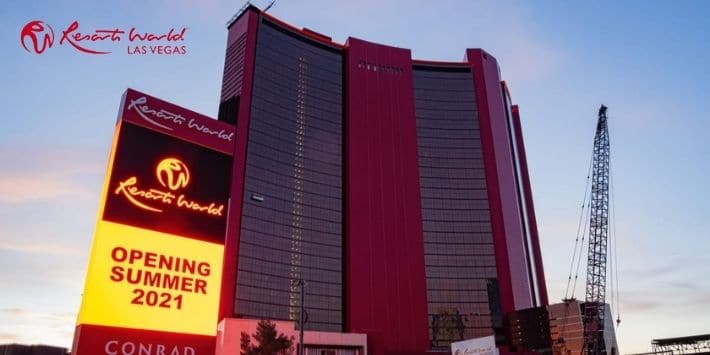 In 2013, Genting Group purchased an abandoned resort on the Las Vegas Boulevard to build a great project, and there was a massive hope for the North end of the strip.
Earlier, there were many planned projects on the abandoned sprawling tracts of the land but never materialized. As a result, traffic was low, and the area was not well-lit compared to other casino-packed areas of the boulevard.
Eight years later, Genting is set to open its long-planned project, Resorts World Las Vegas, on June 24. However, the North Strip is not in the condition it used to be, but it could bring more tourists to the area. If this happens, there will be a surge in tourists in the overall casino area of Las Vegas.
This upcoming $4.3 billion project has been planned as a flamboyant property with a whole lot of star power. It will be the first newly made megaresort debuting on the strip after a decade. It will certainly push the overall tourism of Las Vegas, the mainstay of Nevada's economy.
Resorts World, the project which was expected to open in 2016, got delayed for numerous reasons. Presently, the property underwent a design change with new additions like 3,500 rooms, 40+ food and beverage spots, a 5.5-acre pool complex, 27,000 sq ft spa, and 250,000 sq. ft meeting space.
A retail store will have a Kardashian Kloset pop-up shop selling items from her reality TV family show. Moreover, there are lined-up concerts by leading stars including Katy Perry, Carrie Underwood, Luke Brayan, etc. In addition, the leading pop singer Miley Cyrus is set to perform live at the grand opening of the property, which is set on 4th July.
Shining New Property
According to industry experts, Resort World will end up being the shining property eating up the business of other luxury casino properties. Moreover, there will be an increase in the footfall since it's a new property after a long time.
Casinos primarily depend on a lot of walk-in traffic. Experts believe that new resorts have always expanded the market, ringing in more revenue to the state economy.
Michael Parks, a hotel-casino expert, believe that customers want new and great things. Genting is one such great thing happening that could attract new people.
Presently, the North Strip region is buzzing with activities post-lockdown restrictions. Many new sites are still under construction, like the Wet 'n' Wild plot, the former New Frontier site- presently owned by the Wynn Resorts Ltd, and the 60-plus-story Fontainebleau.
Overall, Las Vegas and its streets are coming back to life.